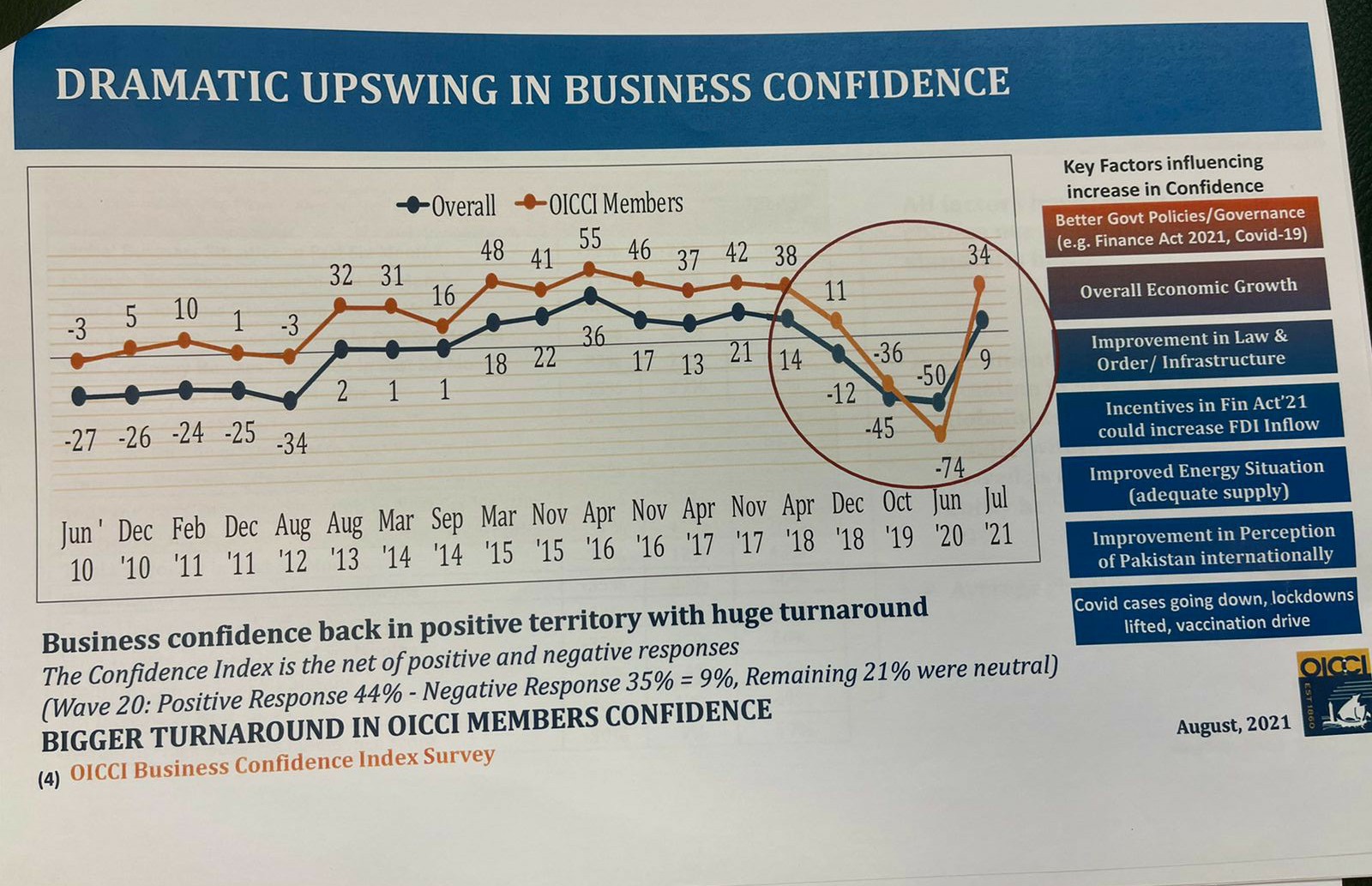 Pakistan's business confidence index has shown a tremendous increase over the past year due to the policies implemented by the government.
This was revealed in the recently released results of the Business Confidence Index (BCI) Survey, which was conducted by the Overseas Investors Chambers of Commerce & Industry (OICCI).
Enjoying the blog? Check these too.
According to the survey, Pakistan's overall BCI has witnessed a positive increase of 59% compared to the previous slump of -50% in May 2020.
Likewise, the confidence of the OICCI members stands at 34% compared to -74% of the previous year in the same period.
The Prime Minister, Imran Khan Niazi, shared this "good news on the economic front" on his Twitter account on Monday.
The tweet by the prime minister shows that the South Asian country's current BCCI stands at a positive 9% from the previous -50%.
Similarly, the OICCI members' confidence has increased by 108 points over the past year — from a negative 74% to a positive 34%.
More good news on econ front. OICCI's BCI Survey shows Pak standing at positive score of 9%, an improvement of 59% from -50% score of May '20. OICCI mbrs confidence stands at +34% vs -74% in 2020, a turnaround of 108%. Dramatic rise in confidence of business esp foreign investors pic.twitter.com/Sw1cT3BK8p

— Imran Khan (@ImranKhanPTI) August 23, 2021
It is pertinent to note that the last positive BCI survey conducted by the OICCI was seen in the results disclosed in April 2018.
During last year, in May 2020, the overall BCI stood at -50%, and in August 2019, the overall BCI stood at -45%.
The OICCI President, Irfan Siddiqui, remarked that the current results "suggest a very dramatic turnaround" in confidence shown by businesses.
He also said that the businesses are showing optimism despite the persisting challenges, such as inflation and a high exchange rate, amid the ongoing COVID-19 pandemic.
According to the results of another survey conducted by Gallup & Gilani Pakistan a few weeks back, around 63% of Pakistani businesses said that the country is headed in the right direction.
This was disclosed in the Gallup Business Confidence Survey Q2, 2021, released by the Gilani Research Foundation
What are your views on this? Share with us in the comments below.