---
Karachi has been ranked the worst on the global Air Quality Index (AQI).

Lahore closely followed it.
South Asian cities often rank among the most polluted cities in the world.
---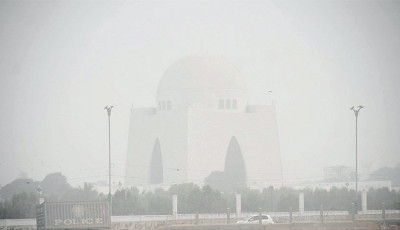 Karachi was ranked the worst on a global Air Quality Index (AQI) on Wednesday morning, placing it among the world's most polluted cities. The city was closely followed by Lahore.
Earlier this month, Karachi was in the spotlight as the third most polluted city on the list, with only Lahore and New Delhi preceding it.
Enjoying the blog? Check these too.
The AQI in the metropolis was recorded at 331 yesterday (Wednesday) morning, while Lahore's AQI was recorded at 280.
An AQI as high as 151-200 is classified as unhealthy, while an AQI between 201 to 300 is more harmful, and an AQI over 300 is dubbed extremely hazardous.
Around 11 am, Karachi's air was still harmful, with its AQI at 221.
However, the port city had fallen on the list – ranking fourth by this time yesterday. Lahore ranked third with an AQI of 227, New Delhi ranked second and Bulgaria's capital city, Sofia, rose to first by then.
According to experts, the air is heavier in the winter than in summer, causing poisonous particles in the atmosphere to move downwards and make the atmosphere polluted.
As a result, a layer of polluted particles, including large amounts of carbon and smoke, covers the city.
The smoke produced by factories and by burning coal, garbage, oil, or tires enters the atmosphere, and the effects of this appear at the onset of winter and remain till the season's end.
Thus, air pollution reaches hazardous levels, severely compromising air quality.
Although southwestern winds moving from the sea may work as a filter for the air, these winds remain mostly suspended during winter.
Experts note that winds blowing from the northeast increased the concentration of hidden polluted particles.
A healthy atmosphere in such a situation is subject to rainfall, which washes off all polluted particles.
What are your views on this? Share with us in the comments below.